16 janvier 2013
Too much snow!
Snow started to fall during the night. At dawn the O&K Caroline equipped with a snowplough went round to clear the track.
By noon it was decided to cease all trafic on the line, except for snowploughing. The layer of snow was nearly two feet by then.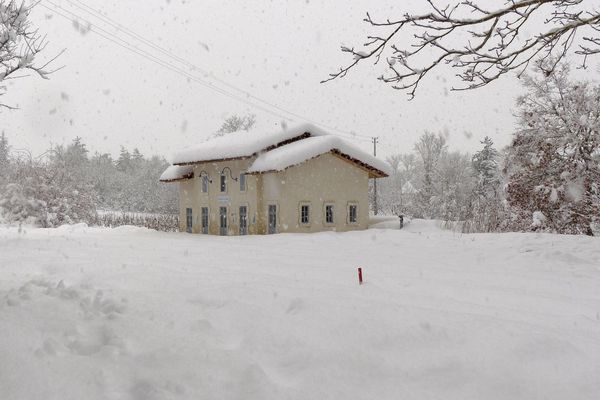 The main station late in the afternoon.
Clearing the track from "les Forges" to "St. Geniez" at 16.00H.
To St Geniez all went well, altough it was heavy going. Coming out of the woods near Padgham Junction disaster struck!
Hitting snowbanks of 3 feet, the "Caroline" got stuck. So much snow had come over the snowplough that the wheels lost their grip.
The bogies of the wagon had become derailed by the acumulated ice. The engine couldn't go forwards nor backwards anymore.
Attempts at digging the train out were in vain. Having our only snowplough stuck, there wasn't much we could do, apart from keeping the boiler ticking over to prevent freezing, and wait for the weather to change.
The B&BLR n°1 Caroline snowbound at Padgham Junction.
No trains till further notice!