12 juillet 2011
Our n° 2 engine the 0-4-0 WT Krauss from 1876 has been sold to the sawmill EFM. She was in need of a major overhaull and a boiler repair and has been laid up for the last couple of years. As we really need a more efficient and stronger engine she will be replaced by a new O&K 0-6-0 WT. She will be really usefull to the sawmil now that they will be connected to our railraod. The repairs on the frames and boiler, will be done by outside contractors, everything else in our workshops. A few modifications towards better efficiency are under discussion with the new owner.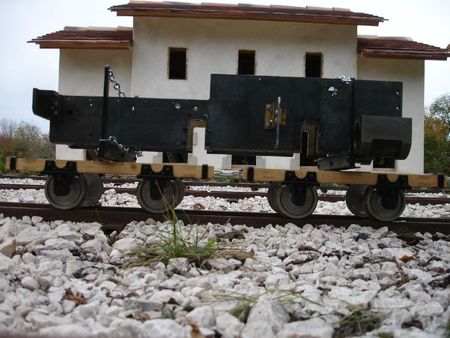 The frames passing Barnac-Gare on their way to the workshop.
Caroline went to the Allier.
Caroline and the CFB's n°1 loco double headed a heavy stone train over the massif central to La Bourse. Here she is in the CFB shed, made ready for the return trip.
In the mean time we had a visit from a 0-4-0 T Corpet Louvet all the way from Nantes.